Well then lets slide thos panties down so I can lick both holes and make you cum. Then slide my hard cock into your holes until we cum together.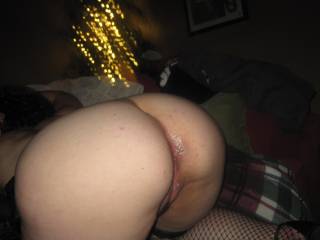 Meet in a hotel, you get there early to get yourself ready, you get naked and blindfold yourself, I walk in, and the first thing i do is put you on your knees and put my hard dick in your mouth. You fuck me with your mouth while you play with my balls and your clit, getting yourself nice and wet. When you're so wet your whole hand and your legs are dripping, I throw you on the bed and tie your hands to the bed (still blindfolded), laying on your back. I lick and suck your clit clean, before making it all wet again, for as long as it takes for you to cum, multiple times, until you beg me to fuck you, moaning almost unable to breathe. I untie you, and put you on all fours, and I fuck you hard and deep from behind (still blindfolded). We then switch positions as we feel in the moment, until you come on top and ride me and use me as you wish, at that point you'll make me so horny that i can't hold it anymore, so I stand up on the bed while you're on your knees, put my dick in your mouth and you suck it until I cum all over your face (still blindfolded). I will then get dressed and leave, and you'll never know who I am. X. Mmmmmy favorite one position! I'm gonna grab that hot ass with my hands and start to lick gentle and hard rubbing up/down through your ass gap - your pussy and asshole, playing with clit, eat it all your sweet pussy, continue do tongue fuck and fingering your holes. Make your pussy very hungry to feed her deep fulfilled with my big very hard cock. 
I'm gonna drive you crazy and make you very wild.
You gonna groan, moan, roar, scream.
I'd (I'll) kneel and fixing your legs with mine or climb on your sweet hot ass, start teasing your ass and pussy rubbing up/down through your ass gap with dickhead of my big hard cock in my hand, then start to ride and drill you - first tease your holes with my dickhead do rubbing circles then slide shallow dickhead only, then stinging you in/out (pull your hair back, nibble your shoulders and neck), then ramming and drilling deep fulfilled you deep inside (of course if you like hard and rough sex). That will gonna be a wild ride. Love to pull your thongs off with my teeth & tongue fuck your asshOle tongue deep, stick my hard cock in your pussy n fuck it hard n deep, fill your love holes with cum :) Me too baby, me too. "It" being that sweet pussy you are trying to hide under that thong. But I know it's there, I can sense it, smell it, almost see it. Thats what im talking about right there. Look at that ass. I want to slide those panties to the side and sink my cock deep inside your wet pussy.